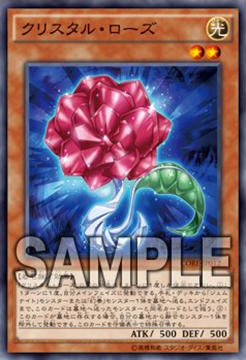 crystal rose/lv2/light
rock/effect
atk 500/def 500
Once per turn: You can send 1 "
Gem-Knight
" or "
Melodious
" monster from your hand or Deck to the Graveyard, and if you do, this card's name becomes the sent monster's, until the End Phase. If this card is in your Graveyard: You can banish 1 Fusion Monster from your Graveyard; Special Summon this card in Defense Position. You can only use this effect of "Crystal Rose" once per turn.
1)only a gem-knight deck user will know, send 1 "gem-knight" monster from deck can be very good.
2)this card can send "gem-knight lazuli" to graveyard, so it will become a "gem-knight" monster, also trigger "gem-knight lazuli" effect.
3)if in your graveyard you have a fusion monster, you can fusion summon with this card, banish that fusion monster to reuse the effect again.
4)this card also can support melodious, you can send  "mozarta the melodious maestra" or "shopina the melodious maestra"(since both high level monster will be dead draw anyway) to graveyard, so can more easily access to "bloom diva the melodious muse"